What Is an SSL certificate? 
An SSL certificate stands for Secure Sockets Layer, which is an encryption technology that creates a secure connection between a client's website's server and website visitor's web browser. SSL certificate allows information to be protected during transmission between the two. It's usually activated by the padlock and HTTPS protocol. We offer free SSL certificate in Kenya for every new account.  HostMasters Kenya offers the cheapest SSL Certificate in Nairobi Kenya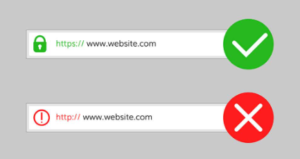 What does SSL certificate do?
SSL certificate ensures data transmission is secured. When the site is secured with SSL certificate, sensitive data such as credit card numbers, usernames and passwords, etc cannot be hacked.
Data sent using HTTPS provides three key layers of protection:
Authentication: Confirms website visitors by verifying details and builds trust.
Data integrity: Customer data are secured and cannot be manipulated.
Encryption: Visitor activity cannot be obstructed while browsing the website.
Contact us to find out more on our SSL certificate packages

Benefit of SSL certificate installation
High SEO Ranking
SSL security is one of the Google key SEO ranking factors. HTTPS-enabled websites has a higher SEO ranking.
It builds Customer Trust
Where transactions are involved, SSL certificate builds customer trust, since it assures them that the data they send will be safe.
Protection From Cybercrime
Installing SSL helps prevent legal action and scandals by ensuring that users and the organization are secured.
SSL certificate Helps meet PCI/DSS regulations requirements
When your business accepts online payments; the website needs to be PCI/DSS compliant. An SSL certificate is one of the basic requisites set out by this regulation.
Affirms Business Identity
SSL certificate assert business, which is a verification process required by Certificate Authority (CA).
Protects Sensitive Information
SSL certificate safeguards server-client communication. The data is locked and only accessible by the intended recipient using an authorization key. SSL helps keep your website secure against cybercriminals especially when dealing with sensitive information like credit card numbers and passwords, it encrypts the data that your website users send you and then decrypts it once you have received it.
Cheap SSL Certificate in Nairobi, Kenya 
Host Masters Kenya offers three levels of protection. The most secure, the Extended Validation (EV) SSL, is recommended for industries where security compliance is essential, such as hospital websites in kenya, College websites in kenya, organizations websites in Kenya, financial Institutions websites, security companies websites in Kenya etc
Any SSL certificate helps build trust in your organization, secures financial transactions, secures sensitive customer information, and helps protect your website from cyber-attacks.
Are you looking to enhance the reliability of your security with SSL certificates installation in Kenya?
Host Masters Kenya offer flexible and cost-effective SSL plans. Contact us to get started.
Why You Need an SSL Certificate registration in Nairobi, Kenya?
Cybercriminals and malicious individuals usually target confidential information such as bank account numbers, user passwords, and other private data to attack your business. Using an SSL certificate blocks unauthorized access and ensures preventative measures are in place to keep off malicious activities.
Wildcard SSL Certificates in Kenya
A Wildcard SSL Certificate is a special purpose SSL certificate that allows you to cover an unlimited number of subdomains at a specific level for one domain name.
Are you looking for an SSL certificate in Nairobi, Kenya?
Call Now! 0724 668 603 / 0733 668 603 or ORDER NOW